Spam is a somewhat controversial subject; most of us hate it, yet many of us have probably dabbled in it in one form or another, even if we were entirely unaware at the time.
The fact is that spam can be found in nearly every corner of the World Wide Web, from email and search results through to political social profiles and the source of the following information itself: the infographic.
So with this in mind, we're going to take a look at the what, where and how of cyberspam thanks to the following absolutely awesome infographics.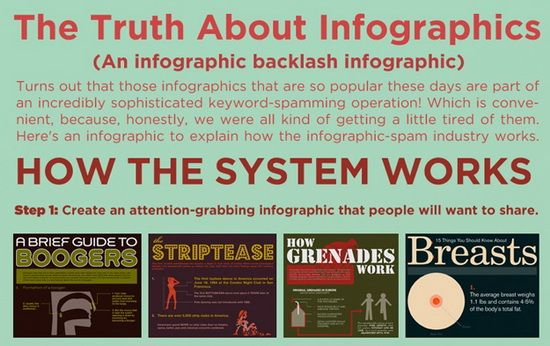 This infographic against infographics is a bit of a head-spinner since despite being an infographic itself it's making the somewhat libelous statement that all infographics are simply a form of link-bait (or, in the opinion of this infographic, link-spam).
What do we learn?
Infographics are a very effective form of link-bait (something that, in essence, isn't spam).
Submitting your infographic to Digg is a great way to help it go viral since it's highly influential. Plus, links from Digg are all followed (unlike links from many other bookmarking sites).
You can turn your infographic into spam simply by hiding some irrelevant keywords and a link to your equally irrelevant site in your coding.